ULTHERAPY is the only FDA-approved, non-surgical ultrasound treatment that  LIFTS AND TIGHTENS sagging skin of the face and neck, along with other deeper soft tissue… ALL WITHIN A ONE HOUR TREATMENT SESSION WITHOUT ANESTHESIA.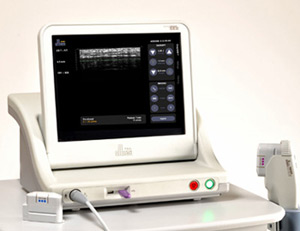 Results continue to improve with additional collagen formation even two years following the treatment procedure.
Ultherapy can be used to treat  the face to lift the contour of the eyebrows, to reduce or eliminate jowls, to reduce or
eliminate under-eye bags and to reduce or eliminate " turkey-neck " deformity and sagging and  crepe-like texture
and sagging of neck skin. And…ULTHERAPY CAN BE  USED SAFELY ON ALL SKIN TYPES AND SKIN
TONES, A FEATURE THAT OTHER SKIN LASER TREATMENTS CANNOT OFFER ! 
Dr. Silver delivers the treatment customized to each patient's  needs and desires.
The treatment is very safe, and there is no downtime required for recuperation.
WOULD YOU LIKE TO TURN THE CLOCK BACK TO LOOK YOUNGER AND FRESHER?
Give us a call to set up your personal consultation with Dr. Silver to discover how ULTHERAPY can
help you !
Here is an example of what the ULTHERAPY treatment can do, to lift and tighten facial and neck skin :